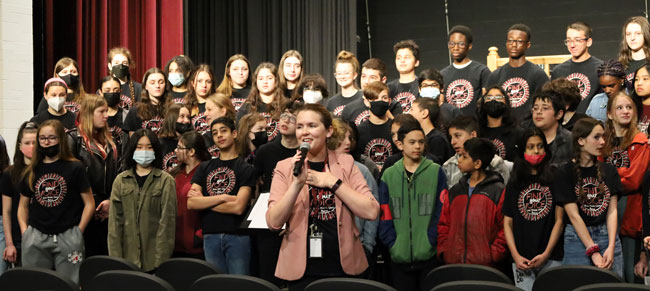 PHOTO GALLERY: CPS Middle School Music Festival
in News
We are pleased to announce the debut of the Chelmsford Public Schools Middle School Music Festival.
Each year, members of the CPS middle school music ensembles perform for numerous festivals and competitions, including the Massachusetts Music Educators Association Northeast Junior District Festival and the Massachusetts Instrumental and Choral Conductors Association Festival. In past years these ensembles have also participated in outside festivals such as Great East or Music in the Parks, but this year marks the first time middle school band, chorus, and orchestra ensembles are performing for an in-house festival event.
"We wanted to facilitate an event where students can deeply benefit by interacting with and receiving feedback from experts in the field," explains Dr. Christy Whittlesey, CPS Fine and Performing Arts Coordinator. "The CPS Middle School Music Festival offers students the opportunity to not only hear other ensembles from the district perform, but also provides each ensemble with an extensive clinic with an award-winning band, chorus, or orchestra specialist following their performances. This is a valuable and highly engaging learning experience for our young musicians."
Clinician bios:
Walter Pavasaris: Orchestra Clinician
For over four decades Dr. Pavasaris has positively impacted many music educators while serving as a faculty member at The Boston Conservatory, New England Conservatory and Boston University. Whether teaching conducting, string pedagogy, instrumental methods, his students have experienced Walter's enthusiasm and passion for the artistry of being a musician and educator.
Daniel P. Lutz: Band Clinician
Daniel P. Lutz is the Director of University Bands at the University of Massachusetts Lowell. In the performance area of Department of Music, he serves as Conductor of the Wind Ensemble, Jazz Rock Big Band, Director of Pep Bands, and Director of the much acclaimed Marching Band. Mr. Lutz is a composer and arranger of works in a wide array of media. With hundreds of works to his credit, commissions have included wind band and orchestral works, pieces for jazz ensembles, theatre, corporate video, and commercial radio and television.
Catherine Connor-Moen: Choral Clinician
Catherine Connor-Moen has extensive experience as a choral conductor, having directed school, church, and community choirs for over forty years. Ms. Connor-Moen's choirs have received numerous awards, at both the state and national level, and have performed in Boston's Symphony Hall, the Hatch Shell on the Esplanade, Ozawa Hall at Tanglewood, Chicago's Orchestra Hall and the Kennedy Center in Washington DC.