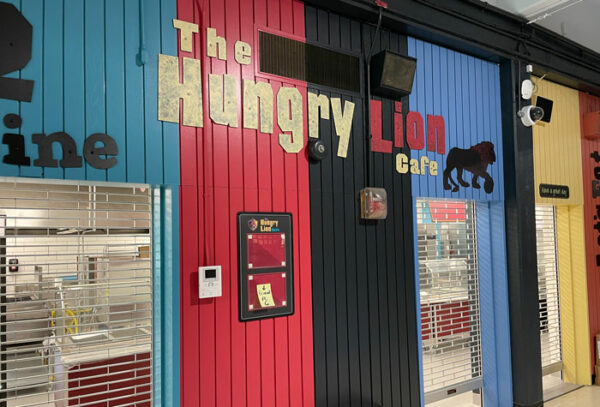 Parker Middle School Kitchen Gets Full Makeover
in Newsletters
Cooking from scratch, more selection on the menu for 2021-22
CHELMSFORD, MA (July 21, 2021) – The kitchen at the Parker Middle School is in disarray at the moment. In the midst of the chaos, however, Chelmsford Public Schools Nutrition Director Nancy Antolini envisions a fully functional, streamlined operation packed with hungry students.
After more than a year of serving prepared lunches, Ms. Antolini is excited to dive into her passion: Organizing and serving a full, healthy menu to the students of Chelmsford, particularly in the refurbished Parker Middle School kitchen stocked with a plethora of cutting edge appliances, equipment and a new layout.
The Parker Middle School Cafeteria has even rebranded to 'The Hungry Lion Cafe.'
"It's a brand new kitchen top to bottom," said Ms. Antolini, who doubles as the Vice President of the School Nutrition Association of Massachusetts and its President-Elect for 2021-22. "It will run more efficiently. We'll have more cooking from scratch and more food options. We're state-of-the-art.
"Last year was all grab-and-go (lunches)," she added. "We worked on the Parker kitchen all last year to make sure it will be run correctly. I am all about scratch cooking. I love being in the kitchen."
Parker students will have four food lines from which to choose: A pizza line with chicken wings and other snack bites, a salad bar and a delicatessen bar, in addition to the main lunch line.
Even better, families will not be charged for regular breakfast and lunch for the 2021-22 academic year according to the U.S. Department of Agriculture.
"It's going to be great to see the kids have more options and more healthy options," said Parker Middle School Principal Jeffrey Parks. "They're fired up to come back. I'm excited to get more of the staff to take advantage of the options there too."
Among the new appliances are walk-in and portable refrigeration units, high-speed ovens, beverage and meal coolers for ready-to-eat items, mobile buffet stations, a deli meat cutter and storage racks.
Separate office space was created for Ms. Antolini where, she said, she will be spending the majority of her time over the next year. The entire kitchen also received a fresh, bright coat of paint as well as new murals in the Café. Additionally, students will sit at new tables.
"It's a little nerve-racking, but I'm really excited," she said.
The Parker Middle School kitchen upgrade is the latest in a series of improvements to the Nutrition and food service operations at Chelmsford. Prior to the Covid-19 outbreak, each of the four elementary schools received renovations and upgrades.
The 2021-22 school year begins on Tuesday, Aug. 31 for grades 1-9, and Wednesday, Sept. 1 for grades 10-12.
About Chelmsford Public Schools
The Chelmsford Public School District provides all students with multiple pathways to optimize their own potential for academic excellence, leadership, and social and emotional wellness. The mission of the Chelmsford Public Schools is to educate, engage, prepare, and empower well-rounded and knowledgeable learners to PERSEVERE through challenges, demonstrate RESPECT and INTEGRITY in their words and actions, are DEDICATED to their community, and display EMPATHY as global citizens while discovering and pursuing their full potential.  This PRIDE-driven culture enables all members of the school community to support the growth and development of students.  For more information, please visit chelmsfordschools.org.