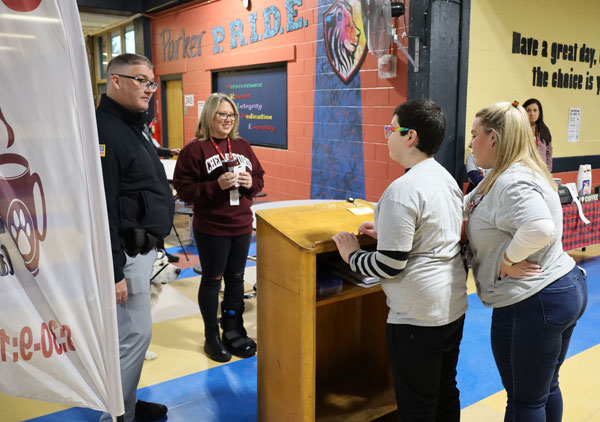 Chelmsford's Parker Perk Café Teaches Communication, Fine Motor Skills to Students with Autism
in News
Parker Perk Café celebrated its grand reopening in December
CHELMSFORD, MA (Jan. 27, 2022) – Would you like take-out or dine-in, asks the host to a pair of guests at the Parker Perk Café.
I think we'll dine in, the guest replies.
The host obliges and leads them to a vacant table.
This isn't a restaurant in Chelmsford Center or downtown Lowell.
It is the Parker Perk Café, open to faculty and staff from 8:30-9:15 a.m. every other Friday. It is a transformed area of the Parker Middle School Cafeteria with a host and waitstaff, tables, coffee bar and pastry display for those dining in. It also runs a delivery cart for teachers and staff seeking delivery to their classrooms and offices.
Each of the aforementioned roles are taken on by the School's New England Center for Children (NECC) students and overseen by the School's special education and paraprofessional staff: teachers Amy Sparks and Genna Raffaelo and Occupational Therapist Lisa Martin.
The Café opened in January of 2019 and remained open for a year before the Covid-19 outbreak. The grand reopening took place Dec. 2 with plans to continue every other Friday throughout the academic year. It teaches real-world skills such as communication, literacy, measurements and math, and fine motor skills among others, said Parker Speech Pathologist Kristiana Kurth.
"They absolutely enjoy it," she said. "It gives them a real-life way to practice all the things we're working on. They spend most of the time in the classroom, so this allows them to be part of the community and school life."
Arguably, it's the patrons who get more out of their visits to the Café. It has become a draw for many of the faculty and staff at the Middle School, each of whom has bought into its mission.
"Aside from the obvious reward of personally interacting with these students in an area outside of traditional learning, I truly enjoy watching the students and other staff interact and develop relationships," said School Resource Officer Dan Sullivan. "As a School Resource Officer, my favorite parts of the job are being able to interact with the entire student body and developing relationships with the students. Parker Perk Cafe allows the entire building a chance to meet students that they may never have had the chance to meet outside of the Parker Perk Cafe."
An effort such as the Parker Perk Café cannot function without resources and volunteers. In its buildup, Ms. Kurth and other staff wrote letters to businesses seeking donations, and they responded.
Princeton Station, a restaurant in North Chelmsford, donated the cash register and credit card reader.
The Old Mill Coffee Shop in Chelmsford Center provided gift baskets.
The delivery pushcart was donated by the NECC.
Especially Sweet Needs, a bakery in formerly located in Chelmsford Center, donated pastries.
Market Basket donated $50 for supplies (coffee, sugar, creamer)
Bed, Bath & Beyond donated $25 for other supplies.
The Parker Nutrition staff also plays a central role. "The cafeteria staff would bake and donate pastries, then lineup and pay for them," Ms. Kurth said.
The Café is also about progress. It started in 2019 with four students. Currently it has 11 students who cover two shifts.
Ms. Kurth gushes over the story of an eighth-grade NECC student at his high school transitional meeting. He spoke of his ability to work the cash register at the café and his goal to work at a supermarket or something similar.
"This has been a labor of love," said Ms. Kurth. "I can't explain or put into words the enjoyment we see from their faces. They will put on this uniform and say 'I'm a chef.' They'll have a big smile on their face and that tells it all."
About Chelmsford Public Schools
The Chelmsford Public School District provides all students with multiple pathways to optimize their own potential for academic excellence, leadership, and social and emotional wellness. The mission of the Chelmsford Public Schools is to educate, engage, prepare, and empower well-rounded and knowledgeable learners to PERSEVERE through challenges, demonstrate RESPECT and INTEGRITY in their words and actions, are DEDICATED to their community, and display EMPATHY as global citizens while discovering and pursuing their full potential. This PRIDE-driven culture enables all members of the school community to support the growth and development of students. For more information, please visit www.chelmsfordschools.org.