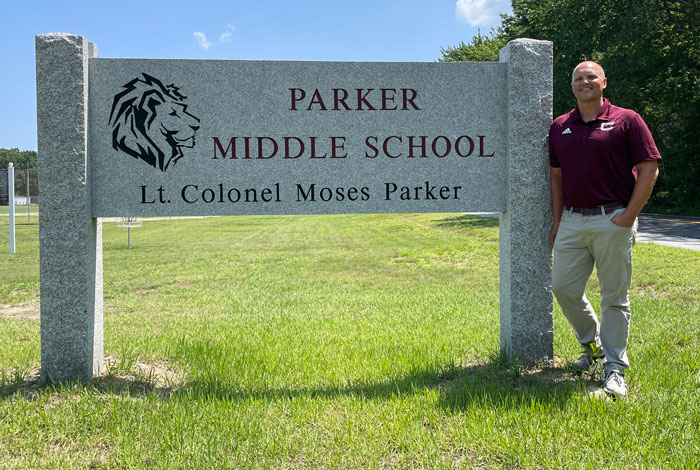 Josh Blagg '91 Hopes to Bring 'Can Do' Approach as Principal of Col. Moses Parker Middle School
in News
Parker Middle School enters first year housing grades 5 and 6 students
CHELMSFORD, MA (July 12, 2023) – The elementary and middle school students of Chelmsford have been away for only 27 days, but their new principal wouldn't mind having them back tomorrow.
Joshua Blagg was named the Principal of the Col. Moses Parker Middle School in April and began the role on Monday, July 3. Previously, Mr. Blagg had been the Dean of Hawthorne House at Chelmsford High School since 2010 following 12 years in the classroom at CHS, McCarthy Middle School and South Row Elementary School.
"The transition has been about as smooth as it could be," said Mr. Blagg, a member of CHS's Class of 1991. "It's really going to be a new school with two staffs molding together. I've been really impressed with the engagement of the staff and how committed they are. I couldn't be more excited."
Mr. Blagg's new role is the result of a shift in Chelmsford's middle school structure. Previously, both the Parker and McCarthy middle schools educated students in grades 5-8. Effective the 2023-24 academic year, Parker Middle School will house grades 5 and 6 students while McCarthy will be home to grades 7 and 8.
Mr. Blagg replaces Dr. Jeff Parks, who accepted the role of Principal at McCarthy, replacing Kurt McPhee, who has moved on to Lowell Public Schools as a counselor.
"Josh brings a unique combination of teaching and administrative experience at all levels of the district," said Superintendent Dr. Jay Lang. "He is dedicated and passionate about education and helping students become the well-rounded learners we aspire them to be and has shown his commitment to the staff and students in town over his twenty-five years in Chelmsford. Josh is prepared and ready to lead a school as principal, and I am happy to provide him the opportunity to do so in Chelmsford."
The timing was perfect for a change, Mr. Blagg said. His youngest son, Ryan (18) graduated from CHS in June and will attend the University of New Hampshire where he will study business and play football. His daughter Emily (21), currently interning for U.S. Congresswoman Lori Trahan, will be a senior at the University of Massachusetts while his oldest son, Tyler (23), is a UMass graduate working at Lowell General Hospital and will pursue a nurse practitioner master's degree at Regis this fall.
"It was time for me to take the next step," Mr. Blagg said. "I love the age group, especially grades 5 and 6, where they're starting to figure out who they are. Some of my favorite times were as a teacher at McCarthy. Middle School is a very interesting and fun age group. The kids change so much."
Among several goals, Mr. Blagg hopes to create a new school identity for Parker. Firstly, he aims to establish the most inclusive, student-centered community possible and maintain a positive student culture rooted in empathy.
Equally important, he said, is to make every student feel excited – not intimidated – about challenges, problem solving and learning new things.
"Unfortunately, I've seen a lot of 'can't do it,' and I want to change that mentality," he said. "When you put students at the forefront of things, great things happen.
"It's going to be a transition from working with 16 and 17-year-olds to now working with 10 and 11-year-olds," he added. "But it's exciting."
Mr. Blagg is a 1995 graduate of the University of Richmond where he double majored in American Studies and Sociology. He earned his master's degree in education from UMass Lowell in 1998 and returned to the Chelmsford campus where he taught at the South Row Elementary School (1998-99) and four years at McCarthy.
Mr. Blagg moved on to CHS where he was a history and sociology educator from 2003-10 – including the History Department coordinator in 2010 – before serving as Dean of Hawthorne House.
Mr. Blagg and his wife, Karen, a mathematics teacher at CHS, live in Westford.
Students in grades 1-9 return to school Tuesday, Aug. 29 while grades 10-12 students return Wednesday, Aug. 30.
About Chelmsford Public Schools
The Chelmsford Public School District provides all students with multiple pathways to optimize their own potential for academic excellence, leadership, and social and emotional wellness. The mission of the Chelmsford Public Schools is to educate, engage, prepare, and empower well-rounded and knowledgeable learners to PERSEVERE through challenges, demonstrate RESPECT and INTEGRITY in their words and actions, are DEDICATED to their community, and display EMPATHY as global citizens while discovering and pursuing their full potential.  This PRIDE-driven culture enables all members of the school community to support the growth and development of students.  For more information, please visit www.chelmsfordschools.org.